Historian Nell Irvin Painter
---
---
Stop Messaging Me, a Black Journalist, About White Irish "Slaves"—A wide-ranging conversation about how white people became "white." Nell is interviewed by Garrison Hayes for Mother Jones magazine. October 22, 2023. Video and text.
This interview includes the fluidity and historical contexts of racial identities in general, the cyclical nature of historical erasure in American education, and even Dr. Painter's perspective on the capitalization of Black and "White."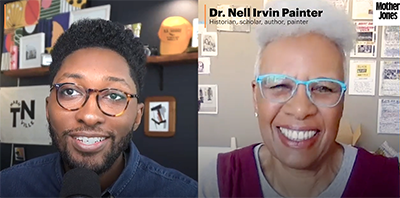 ---
Shepherd.com recommends Sojourner Truth, A Life, A Symbol. Nell's 1996 biography of Sojourner Truth is recommended by other authors on the website Shepherd.com. Three authors picked Sojourner Truth as one of their favorite books, and describe why they recommend it. (Also see our page for Sojourner Truth, A Life, A Symbol under authored books on this website.)
---
"DeSantis' Dearth of Understanding of America's Past Fails Everyone in the Present." Madam Chairman of the MacDowell Board, Fellow, and author Nell Painter identifies the recent efforts to censor history as a repetition of the past in a new essay for Why MacDowell Now? series on macdowell.org.
Nell Painter: Art Can Prevail Over DeSantis's Campaign Against History. "Here we are again," she writes, "face to face with powerful attempts to push Black Americans – our experiences, our struggles, and our thoughts – out of the American consciousness."
But, she continues, "the struggle to be heard and seen will also continue. Art will play its part in this process, for art's reach is not so easily censored. MacDowell artists, like all artists, remain part of this story."
---
"The US: Whose country, 'tis of thee? – Nationalism Reimagined." Nell is interviewed in a podcast by World Review from the New Statesman. Available wherever you listen to podcasts. (November 8, 2022; Nell's segment starts at 19:00 min. in)
This podcast series looks at nationalism in its different forms around the world, and alternative approaches to creating a sense of nationhood. At the 19:00 min. mark in this episode Nell explains why she's thinking about the local and the global, not the national.
---
The U.S. And The Holocaust – Excerpts with Dr. Painter. Nell's interview for this Ken Burns series is featured in a 10-minute-plus excerpt (hosted on Nell's page on UTA Speakers). (full series premiered September 18, 2022; streaming on PBS.org)
The U.S. and the Holocaust, a new three-part, six-hour series directed and produced by Ken Burns, Lynn Novick and Sarah Botstein, explores America's response to one of the greatest humanitarian crises of the 20th century. The U.S. and the Holocaust features interviews with some of the country's leading scholars on the period, including Nell Irvin Painter.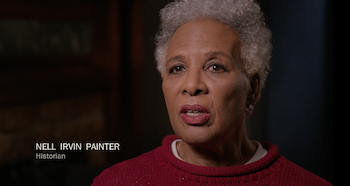 ---
Nell discusses her book, The History of White People with John Piche of The Cleveland Heights-University Heights Library's 1619 Project discussion group. In this interview, "History of White People with Nell Irvin Painter," Nell begins with discussing just what it means to be "white" and how ideas of whiteness developed using Ancient Greek and Roman sources. Ralph Waldo Emerson's influence is explored before delving into eugenics, anti-Semitism, and Irish Immigration. (October 17, 2022 )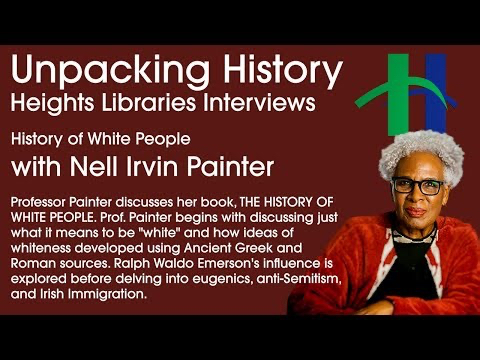 ---
Nell spoke at the Schomburg Center event "Uncovered: Sojourner Truth's Quest for Liberty and Justice," at the Schomburg Center Langston Hughes Auditorium. The event featured 4 speakers, who revisit the story of Sojourner Truth's inspiring life, tell the exciting story of how the long-lost court records from her fight to liberate her son from slavery were recovered in 2022, and discuss the important role of archives in the preservation of documents and the teaching of history to future generations.
The event was sponsored by the Lapidus Center for the Historical Analysis of Transatlantic Slavery at the Schomburg Center For Research In Black Culture, the Historical Society of the New York Courts, the New York State Archives, and the New York State Unified Court System. (The Schomburg Center for Research in Black Culture located in Harlem, New York is a research unit of The New York Public Library system.) Nell is one of four speakers, and her introduction occurs at 26:30 min. into the recording. (October 4, 2022 )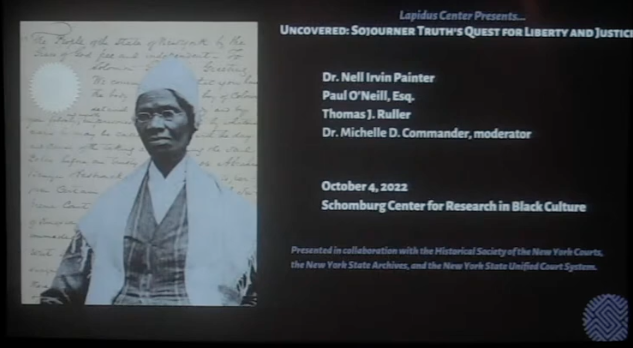 ---
Nell's interview on WBUR, Boston's NPR news station (on radio show Here & Now): "Sojourner Truth court documents found 194 years after legal battle to free enslaved son." Historian Nell Irvin Painter is calling a new find in the New York state archives dramatic and moving. The documents accidentally uncovered by archivist Jim Folts detail abolitionist and women's rights advocate Sojourner Truth's legal battle — and victory — to free her 9-year-old enslaved son. Folts and Irvin Painter join Here & Now's Robin Young to talk about the unexpected find and its significance. (June 20, 2022)
---
Nell's essay "From 1872 to 1876 in the Space of One Year" appears in The Hoosac Institute on-line Journal 10 (Jan 2022).
---
The Department of African American Studies, Princeton University interviews Nell in "The Extraordinary Women of AAS Featuring Nell Painter" March 28, 2022 (video). "The Department of African American Studies sat down with the exceptional Nell Irvin Painter, Faculty Emerita, to reflect on her professional journey, achievements, and future endeavors.
---
Nell appears in a new Showtime docuseries "It's Gonna be all White" (Episode 1). Showtime describes the series as "A deep dive into America's past and present through the experiences of people of color." (March 2022)
Here is an 6:37 min. excerpt (thanks to Sonya Denyse from UTA): Dr. Nell Irvin Painter on Showtime's documentary, "Everything is Gonna Be All White."
Stream from Nell's page on UTA (Nell's talent agency for speaking engagements)
Download mp4 video file (920MB)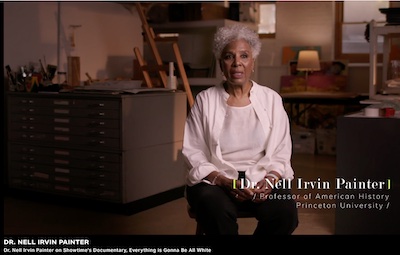 ---
Nell's on-line interview with TSL: TSL Time to Talk: In Conversation with Nell Irvin Painter 2/18/2. (Time & Space Limited is a creative space in Hudson, NY). Topics include Sojourner Truth, Nell's art, new books, Faith Ringgold, Harriet Tubman. (February 18, 2022)
---
Nell's appearance on MSNBC "The Last Word": Lawrence O'Donell interviews Nell about Sojourner Truth, in segment "Recovered docs show how Sojourner Truth won son's freedom from white man." (February 2, 2022)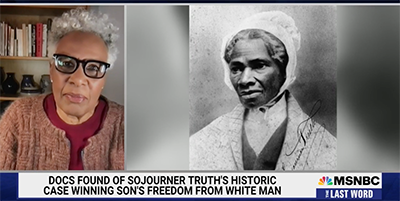 ---
Nell's essay in Politico "How Will the History Books Remember 2021? American democracy cleaved along racial lines" by Nell Irvin Painter, December 29, 2021 (Politico Magazine – History Dept.)
---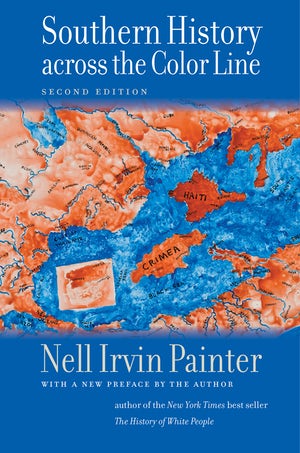 The Second Edition of Southern History Across the Color Line is now available on the UNC Press website and on Amazon.
Published by University of North Carolina Press (2nd edition April 2021).

"This edition features refreshed essays and a new preface that sheds light on the development of Painter's thought and our continued struggles with racism in the twenty-first century."

See more reviews and excerpts of the First Edition (published 2002) on this web site.
---
Nell's op-ed piece in The New York Times: "It Shouldn't Be This Close. But There's Good News, Too. In the long lines of voters, I see hope." by Nell Irvin Painter, November 5, 2020 (The New York Times–Opinion)
Nell's video on NBC: Think—Opinion, Analysis, Essays "The complex history and an uncertain future of American whiteness" by Nell Irvin Painter, August 3, 2020. "A summer of protest has launched myriad conversations on Blackness in America. But whiteness also has its own history in the U.S., one that Nell Painter, author of "The History of White People," says deserves just as much scrutiny."
Nell's opinion piece in The Washington Post: "Why 'White' should be capitalized, too" by Nell Irvin Painter, July 22, 2020. "Let's talk about that lowercase 'white.' " [This piece appeared in The Washington Post print edition on July 23, 2020.]
Here is Nell's unedited longer version (as a pdf), before it was cut to fit into The Post's opinion section.
Nell's opinion piece in NBC online news (nbcnews.com) (Think/Thought Experiment): "White identity in America is ideology, not biology. The history of 'whiteness' proves it." by Nell Irvin Painter, June 27, 2020. "The idea of one big white race did not just spring to life full-blown and unchanging, which is what most people assume — and white supremacists rely on."
Nell has an essay in the Paris Review (Arts & Culture): "On Horseback" by Nell Painter, June 19, 2020. A personal essay on black horseback riders in Black Lives Matter protests, the history of black cowboys, and her own personal history of horseback riding as a girl with her father in California.
Nell's piece in The New Yorker (Cultural Comment): "Seeing Police Brutality Then and Now" by Nell Irvin Painter, June 18, 2020. "We still haven't fully recognized the art made by twentieth-century black artists."
Nell participates in an on-line web chat: Hyphenings — Blind Date No. 5 — Nell Irvin Painter & Ludovic-Mohamed Zahed, "Negotiating identities" May 26, 2020. Nell is webchatting with Ludovic-Mohamed Zahed (Algeria/France), Dr. in social sciences (theology sociology neuropsychology) and imam (gender minorities liberation). Their topics include: identity tools, summer people, race and racism, white supremacy, stereotypes, religion, beauty, norms, homosexuality, inclusive mosques, community, imams, faith, science, activist frontlines, engaged art vs. art for art's sake, Marseille, (in)visibility, (de)colonization. Hyphenings is an international video project connecting writers, thinkers, and artists. In the "blind date" series, guests are not told anything about each other, just invited into a video chat and the curators record what happens.
Nell is interviewed as part of a podcast on NPR's "Invisabilia" series: "White v. White?", March 27, 2020. The podcast's subject is "A city council candidate says he's black. But his opponent accuses him of being a white man pretending to be black." Nell discusses race as a social construct, the meanings which change over time.
Nell presents the Keynote Lecture at the Duke University Libraries Exhibits "Women in the Book Arts Symposium: Keynote Lecture by Dr. Nell Irvin Painter," from the Grolier Club, New York, NY, January 21, 2020. This symposium explored women's contributions to printing, publishing, and the book arts, as well as the contributions of women collectors and book dealers.
Nell's op-ed piece in The New York Times: "A Racist Attack Shows How Whiteness Evolves" by Nell Irvin Painter, October 26, 2019 (The New York Times - Opinion) (here is a downloadable pdf)
Nell Irvin Painter reviews three new books about white identity politics and its implications for the United States: Nell Irvin Painter, "What is White America? The Identity Politics of the Majority," in Foreign Affairs, November-December 2019: pp. 177-183. (downloadable pdf)
(Here is also a link to Nell's foreignaffairs.com article, which is behind the publication's "paywall," but accessible with a free one-article-a-month account.)
Two op-eds in The Guardian!
Nell's second op-ed piece in The Guardian (August 2019), "How we think about the term 'enslaved' matters" – 400 years ago, the first Africans who came to America were not 'enslaved', they were indentured – and this makes a crucial difference when we think about the meanings of our past. (14 Aug 2019)
Nell's July 2019 op-ed piece in The Guardian, "Trump revives the idea of a 'white man's country', America's original sin" – It can't be left to black Americans alone to resist the president's racism. Citizens of all colours need to resist, and embrace activism. (20 July 2019)
---
Nell reviews "Stony the Road," by Henry Louis Gates Jr. in The New York Times, April 27, 2019 Sunday Book Review print issue: "In 'Stony the Road,' Henry Louis Gates Jr. Captures the History and Images of the Fraught Years After the Civil War" (posted April 18, 2019).
The French edition of The History of White People—Histoire des Blancs, was released January 31, 2019! Here is more information, including French-language interviews and reviews.
---
Nell receives the American Historical Association 2018 Award for Scholarly Distinction.
MetroFocus: The Podcast – "A History of White People": Nell's interview by host Jenna Flanagan on the social construction of race and Nell's book "A History of White People." Nell explains how the notion of race evolves with time and outlines her position on current racial frustration in the United States.
Nell reviews Toni Morrison's book "The Origin of Others" in The New Republic: "Long Divisions: The history of racism and exclusion in the United States is the history of whiteness.", by Nell Irvin Painter, October 11, 2017.
https://newrepublic.com/article/144972/long-divisions
Nell's interview on Canadian radio: "There is no such thing as the 'white race' — or any other race, says historian". CBC Radio, The Sunday Edition with Michael Enright, Sunday September 17, 2017. Audio and text.
Video of Nell's interview with Carol Jenkins on CUNY Television's Black America series on April 26, 2017, "Black America - Through a Painter's Eye with Nell Painter": https://www.youtube.com/watch?v=I_b6qwX9f0c&t=6s
New York Times op-ed piece "What Whiteness Means in the Trump Era" by Nell Irvin Painter, November 12, 2016 (The New York Times - Opinion):
https://www.nytimes.com/2016/11/13/opinion/what-whiteness-means-in-the-trump-era.html
A New York Times op-ed piece: "What is Whiteness?" by Nell Irvin Painter, June 20, 2015 (The New York Times Sunday Review - Opinion): http://www.nytimes.com/2015/06/21/opinion/sunday/what-is-whiteness.html?_r=0
A piece by Ta-Nehisi Coates, "The Blue Period: An Origin Story," in The Atlantic.com, 1 April 2014: http://www.theatlantic.com/personal/archive/2014/04/the-blue-period-an-origin-story/359968/
This begins with Nell's 26 minute "Big Think" interview.
Nell's Jefferson Memorial Lecture at the University of California, Berkeley, November 7, 2013 (video, also audio only): http://gradlectures.berkeley.edu/lecture/caucasian/
Video of Nell's interview with Harry Kreisler, "Reflections of an Historian," in the Conversations with History series at the University of California, Berkeley, November 7, 2013: https://conversations.berkeley.edu/painter_2013
The Japanese edition of The History of White People.
As a Fulbright Scholar in the United Kingdom in October 2011, Nell lectured at the University of Edinburgh and Newcastle University.
Nell received a Centennial Medal from the Harvard Graduate School of Arts and Sciences in May 2011: http://harvardmagazine.com/2011/05/centennial-medalists/
Nell Painter's videos discussing
her new book The History of White People
This C-SPAN search page includes links to several videos:
https://www.c-span.org/search/?searchtype=All&query=Nell+Painter
Videos include:
2010 National Book Festival:
Nell Irvin Painter, "The History of White People"
https://www.c-span.org/video/?295631-1/2010-national-book-festival
(Nell's talk begins at 1:40:25 into the video.)
The Colbert Report on Comedy Central
with Stephen Colbert:
Nell Irvin Painter debates the meaning of white people
and arm-wrestles Stephen over the Scots-Irish.
http://www.cc.com/video-clips/wqbtkw/the-colbert-report-nell-irvin-painter/
Nell Painter's NY Times front page book review
of her new book The History of White People:
http://www.nytimes.com/2010/03/28/books/review/Gordon-t.html?scp=1&sq=nell%20painter&st=cse
ABC News with Dianne Sawyer:
Diane Sawyer and author Nell Irvin Painter
discuss what it means to be "white."
(Video no longer posted on ABC News site, but is posted on YouTube by ABC News: https://youtu.be/1sEv-HrLQFo)
The story link on ABC News:
http://abcnews.go.com/WN/history-white-people-author-nell-painter-talks-diane/story?id=10260769/
Big Think Interview With Nell Irvin Painter:
https://bigthink.com/videos/big-think-interview-with-nell-irvin-painter
---
Nell Irvin Painter, a leading historian of the United States, is the Edwards Professor of American History, Emerita, Princeton University. In addition to her earned doctorate in history from Harvard University, she has received honorary doctorates from Wesleyan, Dartmouth, SUNY-New Paltz, and Yale.
A Fellow of the American Academy of Arts and Sciences, Nell Painter has also held fellowships from the Guggenheim Foundation, the National Endowment for the Humanities, the American Council of Learned Societies, and the American Antiquarian Society. She has served as president of the Organization of American Historians and the Southern Historical Association. Those presidential addresses have been published in the Journal of American History ("Ralph Waldo Emerson's Saxons" in March 2009) and the Journal of Southern History ("Was Marie White?" February 2008). The City of Boston declared Thursday, 4 October 2007 Nell Irvin Painter Day in honor of her Outstanding Book Award from the Gustavus Myers Center in 2006.
A prolific and award-winning scholar, her most recent books are The History of White People (W. W. Norton, 2010, paperback, March 2011), Creating Black Americans: African American History and Its Meanings, 1619 to the Present (Oxford University Press, 2006), and Southern History Across the Color Line (University of North Carolina Press, 2002). A second edition of Standing at Armageddon: The United States, 1877-1919 and a Korean translation of Sojourner Truth, A Life, A Symbol appeared in 2008. Her other books are also still in print. For a complete list of her book and article publications and other honors and activities, please consult the Historian C.V. on this website.
As a public intellectual, Professor Painter is frequently called upon for lectures and interviews on television and film. In January 2008 she appeared live for a three-hour "In Depth" program on C-SPAN Book TV. To see the program on the internet, go to the web page for "In Depth."; or click this link: https://www.c-span.org/video/?201000-1/depth-nell-irvin-painter

She has also appeared on Bill Moyers's "Progressive America." New Jersey Network's "State of the Arts" documented her work as both a scholar and an art student.
---
Here is information on Nell Irvin Painter's 2010 book, The History of White People:
The book can be ordered from W. W. Norton and from online booksellers.